Ta Da!

Post One-Five-Oh.

150

. The ol one-fifty-roo.... okay, that's enough of that!
Since I missed my hundredth post, I decided to wait until I hit 150 before breaking out the streamers & dollar store balloons, & here we are.
Ah... what to say about this little milestone in my young blog's life? It's pretty cool, I think, to have reached this at all, considering it took me quite a while to warm to this blogging business - I even gave up once early on - but when I returned it was with renewed vigour & enthusiasm & I am so,

so

glad.
I don't know if I will ever make a milestone like
this one
, but hey... never say never right...?!
Sooooooooo....

You want some stuff....?

'Cause I totally have some stuff for you... if you want it. I wish I had the time, the motivation or the inclination to make some things especially - but... I don't, so you get some things that I think are cool & that I hope you might think are cool, too, but first of all, I have to say a huge & incredibly loud "

THANK YOU!

" to everyone who has visited Punky & Me thus far, everyone who has commented & made me think that I'm not just talking to myself, everyone who is crazy enough to follow me (...little 'ol me?!), everyone who has mentioned me even fleetingly in their blogs, anyone who has sent me anything at all, be it happy mail or a friendly email....

THANK YOU

! It's a nice feeling, the one that all that gives me. It's a feeling of belonging & sharing & just general well being, & I'm not sure if I can really express how much I appreciate it, but I most assuredly do.
Enough soppy stuff! To the goodies....! There are three prizes, one consists of vintage this & that, one is for crafters with a similar craft attention deficit disorder to myself, & one is for lovers of buttons... or bracelets... or things that start with b.
Vintage Viddles;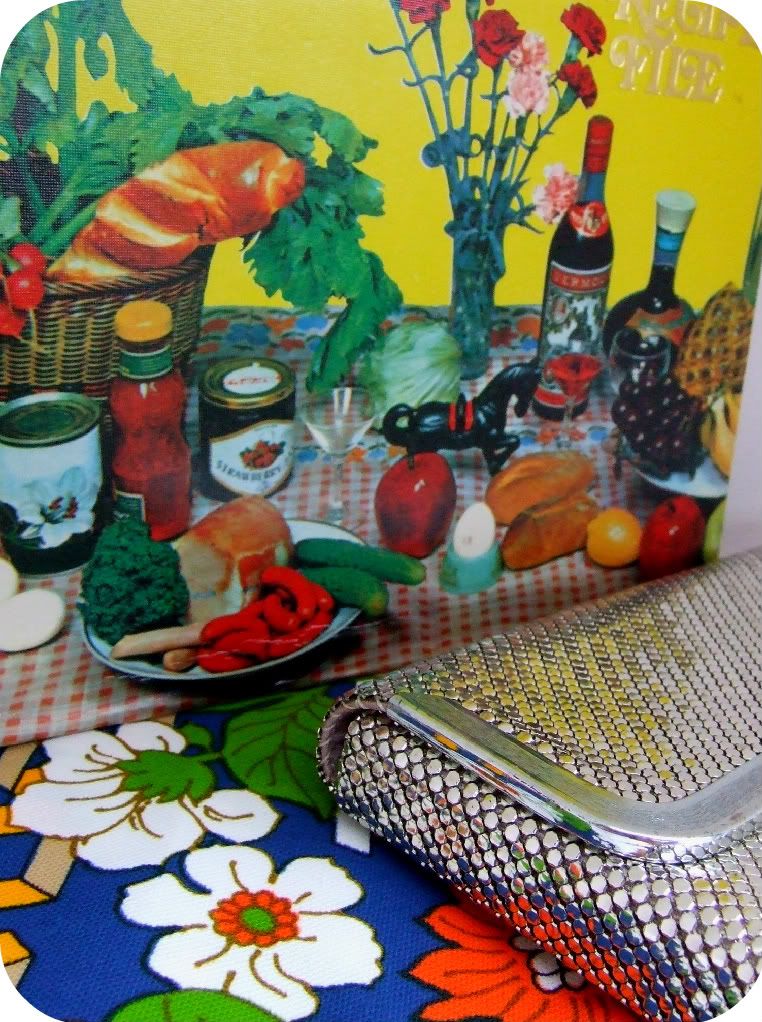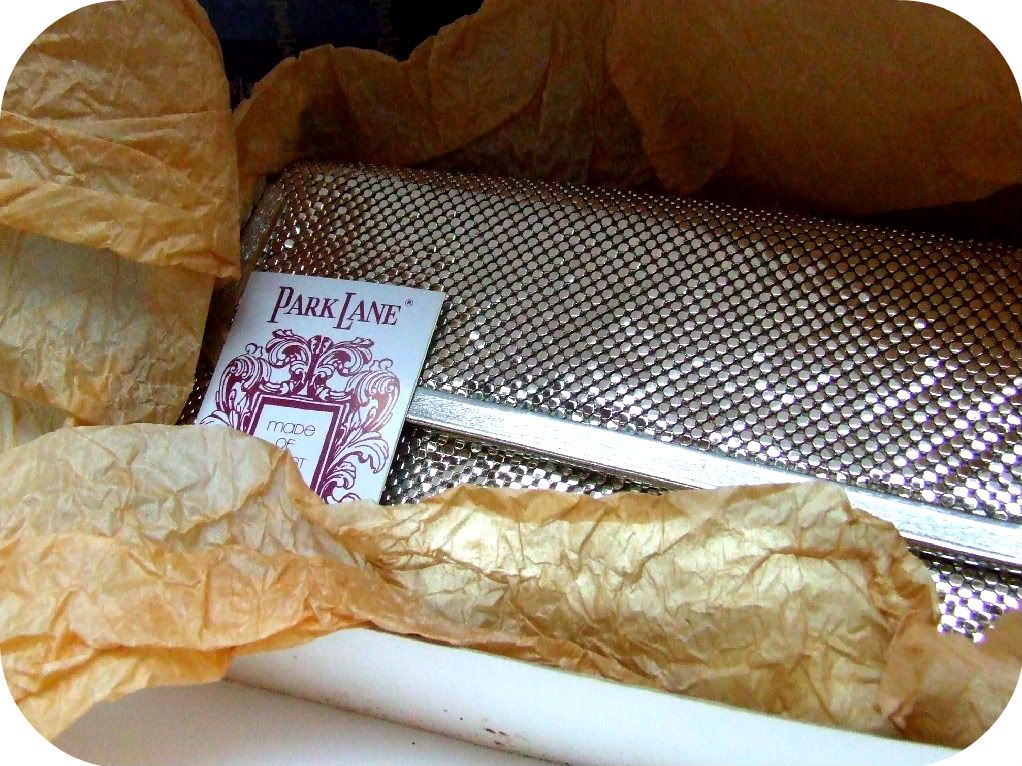 Park Lane Mesh Clutch - still boxed! I have been holding on to this (clutching it, if you will), because it is so pretty & shiny & in it's original box with the little cards & all... but I will never, ever use it, and I never, ever, take it out of it's box, so I would love for it to go to a home where it might get to go out & sample some night life...


Vintage Recipe File - I just picked this up last week & it's a perfect mix of functionality & funny kitchen kitch - look at that droopy french stick! Those appetizing looking party franks...!


Pretty Fabric - Feels like that lovely, ever so breathable polyester that had Leo Sayer sweating it out in wide collared shirts in the 70s - but it's SO PRETTY! Perfect for a funky bag me thinks, or several, there is a lot...


Crafter's Delight;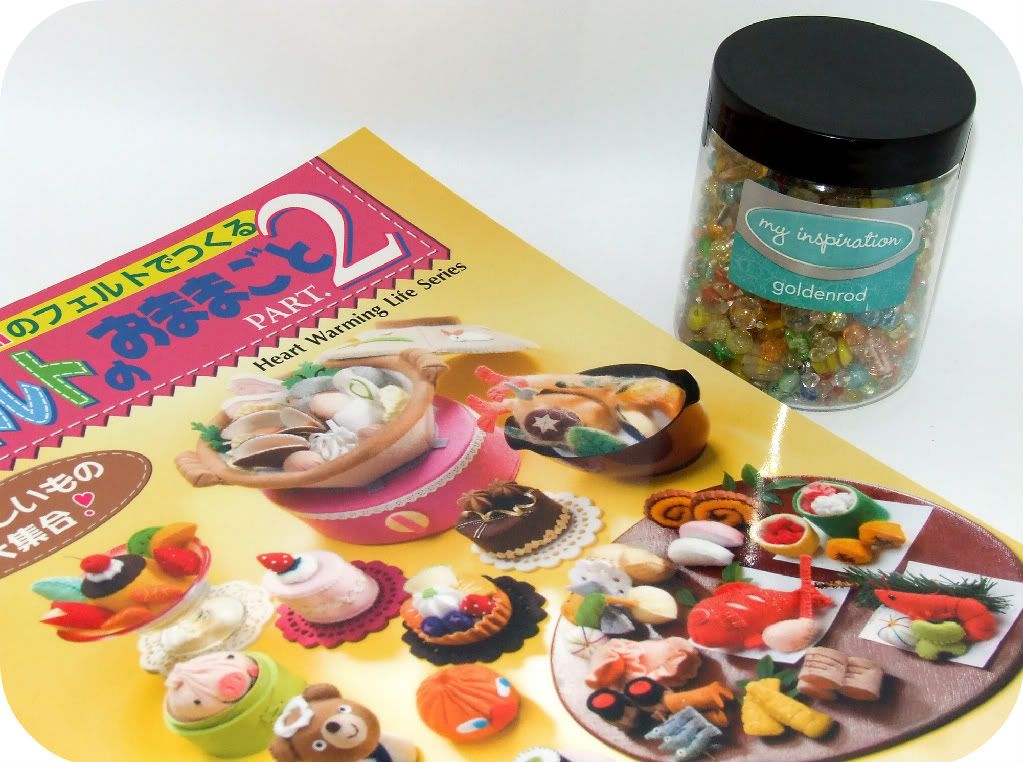 This Book
- Felt Food & Goods Vol. 2. I bought this one & the first one with grand intentions of making an entire pantry of felty goodness to go with Punky's birthday present of a play kitchen.... I'm keeping Vol. 1 in case that urge ever resurfaces....
Some Very Pretty Beads - I bought these because they were pretty. I bought them a long time ago. I have nothing to make with them. They are sad.


Blue Button Bracelet;

What more can I say? It's blue.... it's made of buttons... it's a bracelet! I made it myself *puffs out chest proudly* & think it's rather nice.
Would you like any of that? I rather hope you would.
Leave me a comment here telling me which prize tickles your fancy & it could be yours. I'm also, as soon as I figure out the fairest way to do it (suggestions welcome!) going to pick a random follower or past commenter to make up a little thank you gifty for, so stay tuned for that...
No extra entries

for being forced to follow me - I am so super thankful for those that choose to add me to their blog lists, to their readers, to out themselves as someone who lurks around here sometimes, that I have no desire to make anyone do anything they don't want to do!
No extra entries

for blogging or tweeting or painting a link on your butt & doing a nudey run - but feel free to do any or all if you are so inclined (okay... so if you do the nudey run thing - you totally get 3 more entries...).
Winners will be drawn by an ingenious though as yet undiscovered random method, next week sometime... you know I don't like deadlines.